Products
All of the professional cleansing, conditioning and styling products that we use are available for purchase for your use at home. Our retail offerings include:
Fairy Tales for Kids
Framesi
It's a 10
JKS
Keratin Complex
Layrite for Men
Magic Sleek
Malibu C
Mitch for Men
Moroccanoil
Nioxin
Nufree Finipil
Olaplex
Paul Mitchell
Revive Pro-Care
Scruples
Sexy Hair
Wet Brush
X Fusion
Keratin Complex Collection
Cleansing, Conditioning and Styling
These cleansing and conditioning products are essential if you are a
Keratin Smoothing or Express Client .
Helps maintain the smoothing results longer.
Deep Conditioners -
Vanillia Bean, Kera Whip, Bond Sealer let you indulge your hair and replenish moisture, target breakage and seal in color.
Keratin Complex Styling Collection encompasses several unique, cutting edge hair smoothing, styling and finishing products. Great for Keratin Complex Smoothing Therapy clients or anyone wanting extra smooth, shiny, beautifully conditioned hair. Once you have tried these products you will be hooked.
Keratin Obsessed
This is a lihtweight all in one spray infused with Keratin and packed with 30 nourishing benefits that deliver healthier, stronger, more vibrant hair instantly.
Round Brush Collection - Ceramic coated vented barrel round brushes available in multiple sizes for lift, curl or overal smothness druing your blowdqay. For all hair types.
MOROCCANOIL
Fantastic Luxury Line !


Moroccanoil Shampoo, Conditioner, Mask, Oils, Styling Products, Curling Cream and Sprays - wonderful scent.
Paul Mitchell Professional Products
No matter the color, texture or style you choose, Paul Mitchell has a shampoo, conditioner and a host of styling products just for you! Let our stylists help you choose the right products for your styling goals.
With products for Color Care, Strentgh, Moisture, Smoothing, Curls, Blondes, Lavender Mint, Awapuhi, Tea Tree, Clarifying, Express Styling, Dry Shampoo, Extra Body, Firm Hold finishing, Flexible Style, and Soft Styling and Marula Oil.
Paul Mitchell is an affordable Luxury - Treat yourself.
Mitch by Paul Mitchell for Men
MITCH products are tailor-made for the modern man. Melding technology and high-performance ingredients with current trends, MITCH makes great grooming easy.
Cleansing, texturizing, finishing, hold. Everything you need!
Malibu C - bringing your hair to a new level of wellness!
Malibu C products contain innovative, free-radical-fighting, crystalized vitamin-technlogies imaginable. They effectively remove damaging environmental impurities, especially those hidden in our water. If you have hard water and iron stains in your showers and bathroom fixtures you also have those mineral are in your hair as well.
West Milford is well known for the hardness and presence of iron in our well water - using these products will pull those minerals out of your hair without being harsh to your hair. As a result your hair becomes shinier and full of life. The line provides both in salon and at home treatments as well as companion shampoos and conditioners to keep hair looking healthy and beautiful.
Wellness kits for Home use - for Blondes, Swimmers (removes chlorine green stains) Hard Water, Scalp Wellness (for Scalp sensativity, itch and flaking) Color Care.
It's A 10 - It started with a Leave-In-Conditioner....
It's a 10 - a very effective line that does what it is advertised to do.

Framesi Color Lover
Color Lover for Curly, Smooth, Volume and Moisture - made by the Italian leader in the professional hair color sector - Framesi understands color. You love your color, now you can love it 95 % longer! This product is surprisingly affordable and protects the investment you made in coloring your hair.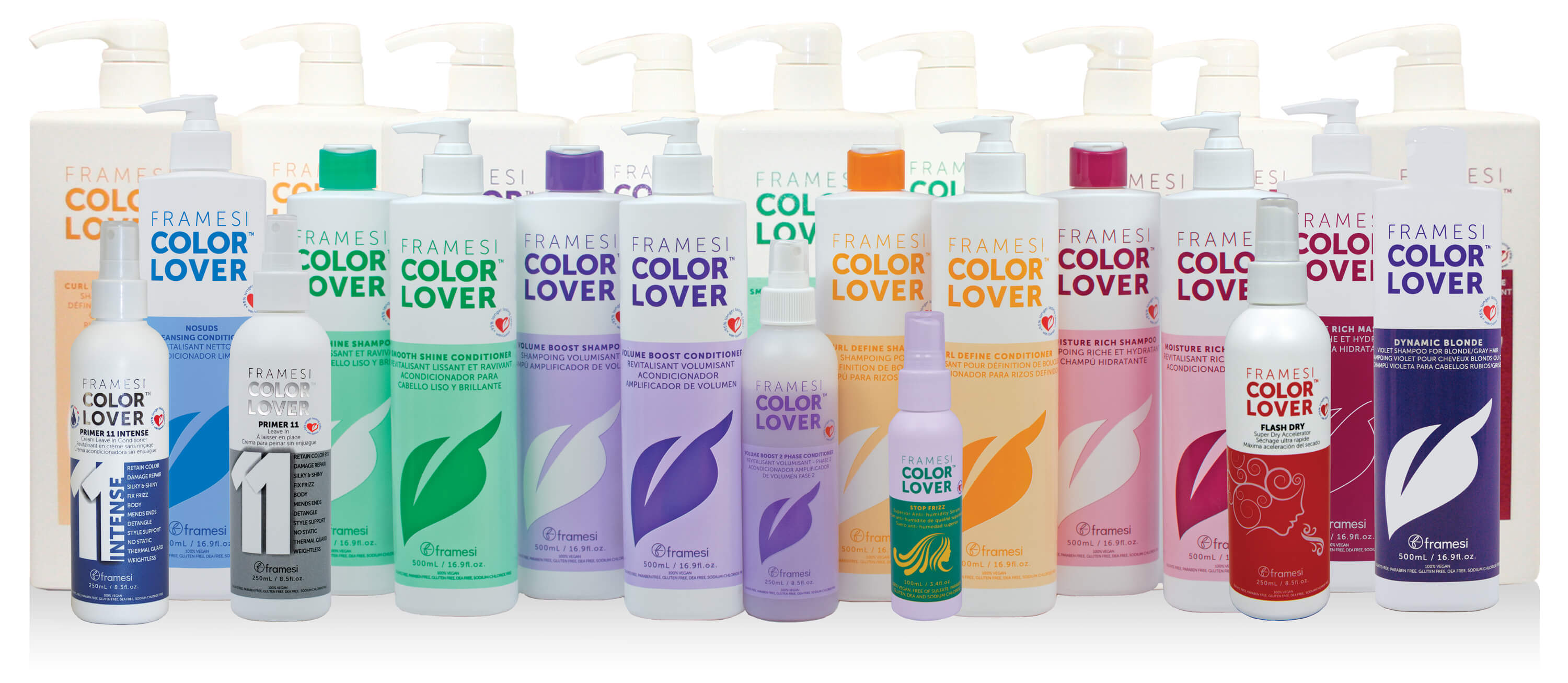 X Fusion - Solutions for Thinning Hair
X Fusion is a cosmetic breakthrough for hair that provides immediate gratification for thin hair. Colored organic fibers made of pure keratin protien are shaken in to thinning areas where they fill our the hair you already have giving a fuller appearance. Comes in nine shades to match your hair color.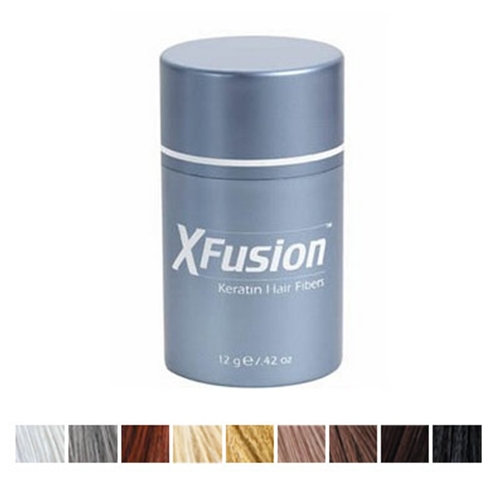 We would be happy to apply X Fusion for you to show you the possabilities.
JKS Color Spray - Beat Grey for a day!
Have you ever had an important meeting to go to and you look in the mirror and see regrowth?
That gray line of demarcation, or those dark roots that spoil your finished look?
If you can't get to your colorist, you can temporarily cover that grey at home. JKS color spray comes in an array of colors to match your shade.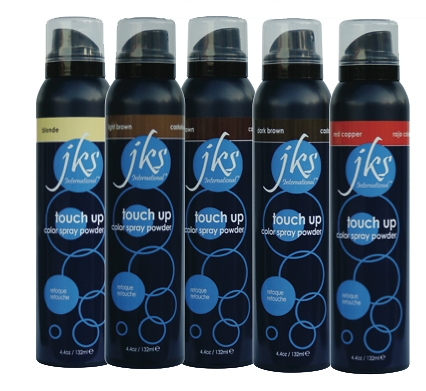 Also comes in some fun fashion colors !
Fairy Tales Rosemary Repel Line - Natural Lice Prevention
Fairy Tales is clinically proven to help prevent head lice with organic herbs and natural plant extracts.
Choose from Shampoo, Conditioner, Conditioning Spray, Styling Gel or Hair Spray.
An Ounce of prevention is worth a pound of cure!
Layrite Men's Grooming Products
Layrite is water based so it holds like a wax but washes out easily. Ask your stylist to use it on you during your next styling and experience it before you buy!
Revive Pro Care - Solution for thinning hair.
Hair thinning and hair loss are a prevalent problem. Revive Pro Care is a 3 part system founded at the end of 2014 because of the growing need for an effective, drug-free system that helps transform fine and thinning hair into thicker, stronger hair. The cleanser removes DHT-laden sebum (the leading cause of hair loss) with regular use will heal the scalp's skin and regenerate the hair follicles. Proven to gro hair that is three times stronger in 30 days!
Color safe - sulfate free - Keratin Treatment Safe - it is skin care for the scalp.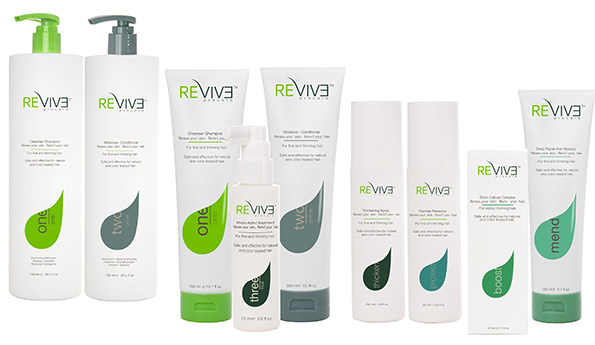 Products: step 1 - prep; step 2 - prime - moisture conditioner; step 3 Treat - leave in treatment for fine hair. Other products Include: Boost Biotin Cellular Complex - for trouble spots; Mend Deep repair Hair Masque; Protect Thermal Protector, Thicken - Thickening Spray. All of the styling products provide weightless finishing.
Nufree Finipil Antiseptic Cream
Purchase and use of Nufree Finipil at home is strongly recommended for all hair removal services. All successful hair removal leaves an empty pore from which the follicle was removed. This empty pore may be subject to infection. Finipil cools, soothes and kills bacteria to prevent infection and ingrown hair issues. Pick up a tube next time you have any hair removal services done professionally or even if you are doing some plucking at home to prevent infections.
Olaplex - Home Care Line!
Olaplex is Insurance for your hair - ask your stylist to add it to your color service!
Then you can take home the home care line -
Shampoo, Conditioner and #3 Hair Perfector, Bond Smoother & Bonding Oil
to keep that great result going!